Sustainable Supply Chains for Tablet & Phone Holders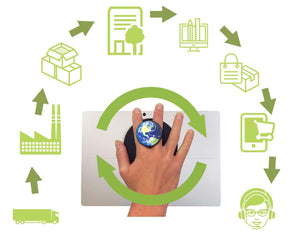 Alison Grieve, CEO of G-Hold (manufacturer of ergonomic tablet holders, phone holders and Working From Home Kits) shares advice for consumers and businesses in how to make sustainable choices for the future of our planet.
A law was quietly passed in the UK in 2021 providing consumers with the 'right to repair' electrical appliances. Manufacturers are now required to supply spare parts for goods, such as washing machines, televisions and dishwashers. You can read about it here.
This new legislation aims to tackle the 1.5 million tons of electrical waste generated in the UK each year. For perspective, that is the equivalent weight of 3 million average sized cars. Just in the UK. Every. Single. Year.
Much of this unnecessary wastage is due to 'planned obsolescence', the practice whereby manufacturers persuade consumers to replace entire products, rather than prolonging the lifespan of our possessions by replacing component parts. For example, a washing machine may have a weak hinge or latch, but if it breaks outside of the warranty period, manufacturers have not been required to offer a replacement for that part alone. Consumers have needed to either send the products away for expensive repairs or, in most cases, purchase an entirely new product for the sake of its weakest component part.
The new law has the potential to reverse some of the damage caused by planned obsolescence since it first became a widespread practice for manufacturers in the 1950s.
This is big news for sustainability and big news for G-Hold. Why? Because despite being a manufacturer of plastic products, one of our key value drivers as a company has been on sustainable practices in production and supply chain. There are so many ways that each and every one of us, as consumers or as businesses, can do our bit in creating a sustainable future for our planet.
Here's a list of G-Hold's small contributions, along with tips to help others lower their carbon footprint:
LOCAL MANUFACTURING
 
We learned, via a calculator on https://timeforchange.org/ that simply by manufacturing in our home city instead of China, we have saved 98.96 metric tons of carbon emissions over the past five years that would otherwise have been generated by freighting our products almost 6000 miles across the ocean. With our factory just 5 miles away from our office, the carbon savings are huge before we even begin our production.
In addition to transport emissions, single-use plastic is required to secure pallets, seal boxes, attach shipping labels and protect goods when shipping from China to other parts of the world. Anyone who has ever worked in retail will know that even the most sustainable of clothing items arriving from overseas will have arrived sealed in a plastic bag before it ever hits the shelves.
Regardless of how sustainable the product itself may be, if it's manufactured many thousands of miles away, the negative environmental impacts are unavoidable.
G-Hold's environmental impact: 19 metric tons of carbon emissions saved per annum.
Consumer tip: Try to source locally produced products and gifts. You can see where a product is manufactured by looking at the fine print on packaging or labels.
Business tip: Regularly review your suppliers to find out where they manufacture their products. Your point of contact may be based nearby but the products might be manufactured many thousands of miles further away.
CENTRAL OFFICE
Once our parts have been moulded, they are delivered to our office to be assembled by a freelance assembly team.
Our assemblers include artists, life-drawing models, game developers, theatre crew and musicians. Assemblers are paid per unit assembled, rather than per hour worked, so many choose to pop into the office for just a couple of hours at a time, as they can earn a good wage without needing to work a full shift. Our current assembly team all live within walking distance of our centrally-situated office.
Conversely, whilst industrial parks can provide larger premises at a lower cost, they are typically 5 to 6 miles away from the more densely populated residential areas of cities, and have far less public transport links. Using a carbon calculator we estimated that we have saved 20 metric tons of carbon emissions over the past five years by locating our office within walking or wheelchairing distance of some of the most densely populated residential areas of our city.
G-Hold's environmental impact: 4 metric tons of carbon emissions per annum.
Consumer tip: If the choice is available, try working from home or at a local hub as much as possible. Always ask whether a trip in the car is necessary. Do you need to go shopping on the outskirts of town or can you buy what you need locally? Gamify your gains by having a play with this calculator.
Business tip: With hybrid working becoming the norm for many companies, an accessible office combined with flexible working policies can be a big win for reducing emissions and for employee wellbeing.
If you take some time to property hunt, you can pick up some great spaces at lower rent than you might expect for central locations. If you really do need to be out of town, consider electric cars for your company car program. Ensure you are supporting your team with hybrid working or working from home by providing flexible, ergonomic equipment. Check out our
WFH Kits
.
CHOOSING THE RIGHT RAW MATERIALS
Plastic has received a rather nasty reputation over the past few years, and for good reason. However, almost all of the aspects of plastic that make it a terrible choice for single-use objects make it a wonderful choice for durable products built to last. Plastic is generally resistant to corrosion, impact, UV rays, water and much more, enabling it to last significantly longer than other materials. It is also lightweight, requiring less fuel consumption in transportation and less protection in transit due to its durability. Unlike products that are cut out of slabs of material, there is considerably less scrap wastage from injection moulded products.
There are bio-plastic alternatives available today but they are not able to be recycled with standard plastics and often take many years, even decades, to degrade, requiring very specific conditions. The supply chains for these bio-plastics are currently complex, thus adding to the fuel required to transport raw materials. Metals are extremely fuel consumptive to produce and are heavy to transport. Wood-based products require considerable natural resources which can lead to deforestation, although are far kinder for the environment when it comes to disposal.
At the end of extensive research and carbon emission number crunching, we concluded that using (and reusing) plastic for our particular products far outweighed any environmental gains by using alternatives, no matter how awesome they may look on marketing brochures. Our highest selling product (G-Hold Tablet Holders) weigh less than three empty 500ml water bottles and yet we have heard from customers who received their first G-Holds in 2014 and are still using them to this day. When it comes to plastics, the clue is in the adjective - single-use plastics? No thanks. Plastic products built to last? Absolutely.
G-Hold's environmental impact: Based on a G-Hold Tablet Holder being used daily over a five year period, the average American will have disposed 780 plastic water bottles - 14.040 kgs - over the same period.
Consumer tip: Purchase products built to last. Always contact the manufacturer if there's an issue with your product rather than throwing it out. They may have a solution for you or a spare part. Dependent on the manufacturer, they may be able to recycle old products and reuse working parts. It's kind for both the environment and for the manufacturer. Find ways to minimise single use plastic wherever you can. Plastic bags are a huge polluter and difficult to recycle - consider stuffing floor cushions with them, or even making a floor mat like these lovely ladies. Wash plastic containers and peel off labels prior to placing in recycling. Contamination can disrupt an entire batch at the recycling plant, so take some time to learn good practices.
Business tip: If you are a manufacturer, review the materials you are using and asses whether they really are the right choice for your products. Spend time researching the supply chains of your component parts. Be brave and make decisions based on what's genuinely best for the environment rather than what might look good in marketing literature. Support your customers throughout their journeys, not just in the lead up to a sale, to help them make their products last. If you make wood-based products, research which type of trees are native to your local surroundings so that you minimise the distance the wood needs to travel to reach you.
RECYCLING SPRUES AT FACTORY
If you've ever made a model airplane or another model kit, you'll have cut your pieces out of a plastic frame. This is called the 'sprue' and it needs to be discarded once the parts are released.  There is sometimes more plastic used in that frame than in the parts themselves. Not all recycling plants accept the waste sprue material.
At G-Hold, we choose to have our sprue material reground and fed back into the next batch of plastic.
Not all manufacturers choose to do this as the reground plastic doesn't necessarily have the same characteristics as the original 'virgin' pellets of plastic. The correct proportions need to be added to ensure there is consistency in every production run. This adds a little more complexity than simply using virgin pellets for every batch and can sometimes lead to small cosmetic defects if the proportions are incorrect. However, the zero-waste benefits are undeniable. Over the past five years, we have reground and reused over 8 tons of plastic waste - the equivalent weight of 8 adult giraffes!
G-Hold's environmental impact: 1,470 kilograms of plastic reground and reused per annum.
Consumer tip: Contact the original manufacturer if you are unsure what to do with leftover sprues from your model kits. There are also some useful tips here for fans of model-making kits.
Business tip: If you make plastic products using an outsourced manufacturer, always ask your injection moulders what they do with the sprues. Never assume that these will automatically be reground and fed back into your supply chain. You can read more about reusing sprue material here.
 
RECYCLED CARDBOARD BOXES
E-commerce grew by 46% in 2020, according to ONS figures. With a rise in to-the-door deliveries has come a shortage of pulp required for paper and cardboard packaging. With many companies moving away from plastic and towards cardboard packaging, demand has outstripped supply. Furthermore, cardboard is not being returned to recycling plants at the same rate as it is being used by Amazon and other large-scale e-commerce companies.
Most manufacturers receive their component parts in standardised cardboard boxes, typically with the name of the supplier either printed or labelled on the exterior. This streamlines logistics, making it easier to quickly identify product parts and to stack effectively in warehouses.
A couple of years ago, our G-Hold production team spoke to the factory to request that our parts were delivered in second-hand cardboard boxes, simply labelled over with the required information. With our factory being so close to our office, we don't need to palletise any of our parts, so our boxes don't need to be standard sizes. This means that our factory can recycle their used cardboard boxes without needing to send them to a plant, and they also don't need to use brand new cardboard boxes for our parts.
Once we have emptied our boxes of parts, we create a post on our local community Facebook page asking if anybody is moving house or otherwise needs cardboard boxes. There are always plenty of people on the lookout for cardboard boxes, so it doesn't take long to clear them from our office.
We have avoided using at least 315 new large boxes by reusing old ones and by passing them onto the community over the past three years. According to this useful article, that's at least two trees worth of cardboard.
G-Hold environmental impact: 0.7 trees per annum.
Consumer tip: Always remember to recycle paper and cardboard, particularly if you do a lot of ordering online. Do not put pizza boxes or packaging contaminated by food into the recycling bin as they will negatively impact the fibres and so cannot be recycled and could contaminate the rest of the recycling batch. You can, however, break up pizza boxes into small pieces and put them in your compost heap or bin as they will typically decompose within just two months.
Business tip: If you receive many deliveries in cardboard boxes, can you offer used boxes to your workforce or local community for moving house? Are all your office supplies and stationary being recycled effectively? Consider appointing a member of your team to review your existing policies and see whether there might be a more sustainable way of sourcing and recycling paper and cardboard.
UNIVERSAL, MODULAR DESIGNS
When we first began developing our G-Hold Tablet Holders in 2012, the market for tablets was heading towards an early peak. With so many different types of devices being produced by multiple different brands, it was hard for case manufacturers to guess which of the many varieties of tablets were going to sell the most and therefore what size and shape of cases to design. Sadly, many hundreds of thousands of cases and accessories ended up in landfill over the following years when product lines were discontinued or when manufacturers had bet on a brand that sold below expectations.
To avoid this inherent risk, we designed the G-Hold Tablet Holder to be a universal solution, able to be applied to the back of any tablet or flat-backed case regardless of overall size or shape. We initially offered two variations of the product - one with Micro Suction attachment material (which is able to be removed and reapplied many times over) and one Megastick with permanent adhesive. 
When kickstands on the back of cases and devices such as the Microsoft Surface Pro gained in popularity, we investigated alternative attachment methods to provide more flexibility for our customers. An approach to VELCRO® Brand's main distributor in the U.K. led us to a low-profile fastener material which enabled our holders to be repositioned for access to kickstands. We were then able to broaden our range using this material and now have G-Hold Phone Holders, 'Home Hang' wall mounts and a Working From Home Kit all using the same fasteners that are entirely interchangeable.
Our products are much smaller and lighter than if we had designed a solution that was integrated into a full case (our G-Hold Tablet Holders are around 10% of the weight of a top-selling tablet case) saving both plastic and the fuel used to transport heavier goods. There have been at least 17 different shapes and sizes of iPads since we first developed our range and yet the core design of our G-Hold Tablet Holders has remained unchanged since 2014. By producing 'retrofit' products that are reusable, universal and interchangeable, our customers can continue to use our holders when they change their devices or cases, saving money and avoiding the environmental impact of discarding old cases.
Assuming 31% of our customers changed their devices every three years* (and discounting any customers who purchased from us since 2018), being able to reuse our holders on new devices has saved 37,510 G-Hold Tablet Holders from being thrown away with old devices. [*Taken from this YouGov poll in 2020]
G-Hold environmental impact: 455.7 kg plastic saved from landfill per annum
Consumer tip: Use converters that enable you to use old accessories on new devices, such headphone jack adapters that enable you to plug your old headphones into a new Apple iPhone. Wherever possible, buy accessories that are universal and reusable so that you don't need to change them every time you change your device. There are also fantastic modular designs for your home, such as IKEA's storage system KALLAX with interchangeable boxes, drawers and doors; or their pegboards that offer endless ways to organise your things, and also conveniently work particularly well with the G-Hold Home Hangs.
Business tip: Design your offices with modular workstations that can be interchanged and updated over time without requiring a total overhaul. Equip your employees with portable devices that can be easily transported between the office and home so that you don't need to 'double-purchase' expensive equipment. When it comes to IT equipment, the cheapest options are not always the best in the long term as you may find it hard to find accessories and plug-ins that are compatible with less well-known brands.
OFFERING SPARE PARTS
One of the key design details I wanted to work into the G-Hold Tablet Holders from Day One was the ability to change the main mechanism quickly and easily in case there were ever any issues with that part or with the base. The decision to make a product capable of 'disassembly' was driven primarily by the premise of this very article - the negative impact of 'planned obsolesce'. 
It does require a little more thought and design work to make product disassemblies possible but it's worth it for the gains in customer satisfaction and for potentially doubling the life of the product.
We record videos for customers, showing them how to fix any specific problems and send out spare parts, if required. We also take back old stock and rework any unused parts. Finally, we make extra parts, such as VELCRO® Brand loop fasteners, available on our website so that our products can be used on more than one device and the pads can be replaced if they get worn after a few years of use.
G-Hold's environmental impact: Based on 5% of our G-Hold Tablet Holders having their lifespan extended with spare parts, 252kgs of plastic saved per annum.
Consumer tip: Now that there is a legal requirement for manufacturers to offer spare parts, try your hand at fixing machines rather than throwing them out. There are fantastic tutorials available on YouTube to help you through a wide array of DIY projects. Local organisations, such as the Remakery, may also run workshops.
Business tip: You may find that your insurance plans restrict you from fixing machines internally but there will be many organisations who would be delighted to take in old equipment to fix and give to those who need it. If you are a designer, it may not be possible with all products, but where you can, try to find ways of allowing customers to swap out component parts.
 
ENVIRONMENTALLY FRIENDLY PACKAGING
G-Hold began work with the Amazon Devices team in 2018 to create a G-Hold Tablet Holder for their Amazon Fire Tablet. It was essentially the same holder, with the VELCRO® Brand fasteners, but to ensure it could be swapped between the Fire's removable case and the device itself, we added in two 'loop' fastener pads. The other requirement was to have some sort of way of storing the holder when it was not in use. We investigated potential solutions and arrived at a circular storage tin that would double up as our packaging. We were praised for finding a sustainable packaging solution that customers could keep.
However, the only downfall of our tin packaging (still sold via our U.K. Amazon store today) is the weight that it adds to the product, and therefore the fuel required for shipping. The tins also need to be sourced from China, adding more fuel to get them to us, and they arrive individually wrapped in plastic sleeves to protect them from damage. We immediately developed a system to reuse the plastic bags after placing the products inside the tins, but it still only adds one extra use to the wrappers - 'double-use' plastic.
When we later developed our G-Hold Phone Holders, we were determined to use the most sustainable packaging possible. I looked at all available materials for boxes and bags, learning how these materials are sourced and manufactured. Linen is derived from the flax plant, which is the second most productive fibre crop after hemp, taking just 100 days to grow from seed to crop. It takes just 6.4 litres of water to make a linen shirt, compared to 2,700 litres to make a non-organic cotton shirt. We source the material closer to home (Poland as opposed to China - a fifth of the distance), and the resulting (reusable) gift bags are an eighth of the weight of the tin packaging. A balanced view on the use of linen can be read here. 
Choosing sustainable packaging is not without its challenges. G-Hold Tablet Holders have mostly used plastic-free cardboard packaging. We once requested a return of stock from one distributor to service another and found that our carefully manufactured, assembled and packaged products had been covered in dust, trampled on (with dirty boot marks on the exterior), and the edges of the packaging torn and squashed. Mistreatment of goods through the supply chain after they leave the original manufacturer is commonplace and can neutralise any gains from sustainable packaging.
The final challenge is to ensure there is a large enough flat surface area on packaging to apply a barcode for external warehouses to scan when products arrive and leave the premises. It's not possible to durably stick a label onto linen (and some reseller wills fine vendors if a barcode is missing), so we opt for a cardboard tag tied with ribbon at the top of our linen bags.
G-Hold environmental impact: 24,256 kg less carbon omissions per annum (based on linen bags vs tins, land freight vs air freight)
Consumer tip: When you order online, unpack goods carefully in case you need to return an item for any reason. Always recycle or reuse packaging if possible. Remove any plastic labels, hangers or protectors from cardboard packaging prior to recycling. By ordering directly from a company's website, you are usually supporting them both financially and environmentally by cutting out the additional packaging, fuel and risk of damage that comes with sourcing via larger marketplaces, such as Amazon. G-Hold initially received a lot of pushback from the industry regarding our use of linen bags as it was not the usual packaging for consumer electronic accessories. However, our customers quickly took to social media to compliment the little gift bags, which helped us persuade our partners to support our decision. Little actions taken by consumers, like social media shoutouts, can really help companies to continue to make sustainable choices without negative repercussions.
Business tip: Whilst purchasing via large distributors may simplify your procurement processes, set aside some budget for direct purchasing from manufacturers. We once received an order via a distributor for a company in our own building. The ridged procurement rules meant that we have to ship the goods 500 miles away in specific box packaging, only to have them re-boxed and shipped back to the customer. Choose to use sustainable packaging as much as possible. Some retailers might be resistant at first, but times are definitely changing and we can all play our part in the movement.
 
 
CUSTOMER SERVICE HELPLINES & USER INSTRUCTIONS
The move toward online retailing has created a surge in goods being returned. Whilst shoppers only return 5 to 10 percent of the goods they buy in-store, that figure rises to 15 to 40 percent of goods purchased online being returned. The biggest offender is fashion, with around 40% of fashion items being returned to online retailers.
When we first launched our G-Hold Tablet Holders, we found that over 90% of our returns (and bad reviews) came from a misunderstanding of how to use or attach our products, particularly when we only offered a Micro Suction attachment base. We spent considerable time watching focus groups interact with our packaging to watch how they used the product without any additional prompts.
We realised that customers were holding our product with their fingers through the mechanism, like a ring. This made the product uncomfortable as it was designed to be more like a flip-flop, with one longer contoured stem to slide between the fingers. We altered our packaging to ensure that a large visual image would appear under the product to make the finger positioning more clear.
Another factor in the misuse of our main product was the attachment method. Micro Suction was not a commonplace material back when we launched and it was challenging to encourage customers to read instructions. We decided to place instructions on the base of the product itself to make it unavoidable to miss the step-by-step guide. Crucially, a 24 hour helpline was established in our biggest market (the USA) so that our customers could have a real human available to talk them through the process. Our helpline reduced returns immediately by a whopping 50% compared to our industry average and bumped us up the rankings with customer reviews. 
Any issues unable to be solved by the customer service reps are escalated to our head office team who can further support customers on the phone and even by creating bespoke videos. Having that direct contact with customers has not only reduced returns, saving money and carbon emissions, but has also been good for staff morale, as it always feels good to be able to help our customers and discover what adventures our products get up to in their new homes.
By the simple act of adapting our user instructions and offering a customer service line, we have prevented 26,250 G-Hold Tablet Holders from being returned over the past 5 years. Manufacturers are not always able to control what happens to returned products, depending on which retailer is taking the returns. It was recently reported that Amazon destroys millions of unsold products per year and that doesn't even include the returns, so any steps that can reduce that figure have a direct impact on our environment.
G-Hold's environmental impact: Average of 220.5 kg plastic saved per annum
Consumer tip: Always read user instructions, no matter how boring they may be! If there is a helpline number or email address on your packaging for customer service, always contact it before returning your products. G-Hold's customer support team solve over 95% of customer issues and are always happy to hear from our users. The vast majority of manufacturers are keen to hear about customer issues and to avoid the financial and environmental impact of returns. Pause for a moment before clicking that 'one star' button and applying a return label. Products have real life humans behind them who genuinely smile when they're given the chance to make customers happy.
Business tip: According to a survey in 2019, 86% of people would prefer to interact with a human than a chatbot. Services such as Answer Connect are a fantastic way of resourcing customer support lines in overseas markets. It is also a fantastic way to become closer to your customers, and to learn new ways to improve your products and packaging. The vast majority of customer issues can be solved if you make it easy enough for them to contact you. You'll not only avoid the cost of returns, but will build a happy and loyal customer base that will stay with you for years.