G-Hold's Top App Recommendation Series: 3.0 Graphic Design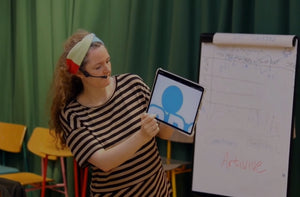 Part three in our series of Top Apps, is focusing on our favourite Graphic Design and Marketing Apps. Most of these we use for professional use, but some can be used to simply edit your own personal images if you were looking for something to use in your personal life too.
And of course, we find using each of these apps with the G-Hold attached at the back of your device is a must and makes using them so much easier and more freeing. To buy your own G-Hold then please visit our
Shop
page.
Without further ado, here are our top 5 Graphics/ Marketing Apps:
Pixelmator
We have been chatting about using the Pixelmator app a lot this week but it's simply because we love it so much. We have used this app throughout our new web design and digital asset revamp and it made our lives so much easier. This app is similar to Photoshop, but with a simpler interface so you don't have to be a pro to work out how to use it. Within Pixelmator you can edit photos, remove imperfections, duplicate areas of an image, distort images, add layers, paint and draw onto the images, erase backgrounds, select particular parts of the image to copy onto another, add text and artwork, and more. There is so much you can do and all at the swift touch of a button. The G-Hold team all find the user experience incredibly intuitive and perfect for iPad users, removing the screen and hand displacement that comes when using graphics programs on your laptop or desktop. We usually endeavour to recommend free apps, but we think that Pixelmator is worth investing in at just less than five dollars for full use of the app.
Pic Monkey
If you are after a fun and simple photo design app then Pic Monkey is for you. This app allows you to create amazing content for your social media posts with different filters, layouts, stickers, text options and more. You can even edit your photos within the app. Pic Monkey also has templates for you to use if you wanted something quick and easy. All you have to do is change the text and images to suit you. Easy! For businesses, you can add overlays and so can show your logo on each image as well. The app is super user friendly and we have had a lot of fun playing around with the app.
Adobe Spark Post
This app is for those marketers that live on Social Media. The Adobe Spark Post app has hundreds of templates designed for use on all the different social media platforms and layouts to suit each. You don't have to be a pro to create amazing content for your social media when using this app and all you have to do is add in your text, images or videos and then add on some filters or other graphics to make some seriously cool content. You can even create branded designs for your business with your specified logo, font and design ideas. Another thing we love is that you can animate your images and save as a video to share. There are so many things you can create on this app, and some include photo collages, social posts, inspirational quotes, posters, invitations, presentations, banners, and more.
Werble
Werble is a simple tool that we use to animate our still images. It is super fun and the results always look so amazing. We also use this app when we are making our augmented reality videos. So, if you would like to bring some motion onto your images then this is the app for you. There are so many different effects that you can add to your image ranging from lighting effects, weather, flowers, confetti, angel wings and more. The options are endless. There is also the option to roll the dice and randomise the final look. To save, you can either save as a video or a GIF depending on what you want to use it for. We love using the Werble app and of course all the best animation options are paid for, but we couldn't imagine not using them now that we have them.
Adobe Photoshop
This is technically 3 different apps, but overall, they make up the full Photoshop app that you can download on your computer. For your tablet though, this has been broken down into these three apps – Photoshop Fix, Photoshop Mix and PS Express. The Fix app allows you to retouch and restore your images. It uses tools like heal, smooth, liquify. Lighten and more to give your photo the exact look you were going for. The Mix app is where you can play with the layers and create interesting mixes of photos. You can also erase backgrounds and retouch selections of your image. What is even better is that you can save your photo with a transparent background onto your camera roll and use within other editing apps as well. Finally, the PS Express. This is the app that allows you to add filters and effects to your photos to turn a normal picture into something more creative and vibrant. You can also create photo collages for something different. It also has some more of the smaller tools that you get in your desktop version of Photoshop. Using all three of these apps is definitely helpful to get amazing graphics and content for our business. You can even have some fun and mess around to create something more for your personal social media accounts if you wanted.