G-Hold's Top App Recommendation Series: 2.0 Music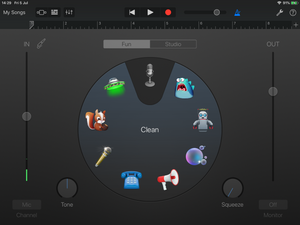 Part 2 of our Top App Collections is here and this time we are talking about what Music apps we love. The G-Hold team came up with this list from what they use and/ or find interesting. Each can be applied to both fun and professional use.
These apps are also so much easier to use when paired with a G-Hold on your tablet. Visit our Shop page to buy your own G-Hold!
Here are our top 5 Music Apps:
Shazam


This has to be one of the most used apps I have seen and according to Apple, it is used by more than 100 million people each month. Shazam is simple and easy to use. This app allows you to identify music, find and download song lyrics and to discover new music. So, if you hear a song you like in a shop, in the car or on the radio but don't know the name of it – then Shazam it. It will listen to the song and then show you the name of the song and the Artists name. The app then saves the song to a "My Shazams" list which you can go back to whenever. If you want to know what your favourite artists are shazaming (like Bruno Mars or Regina Spektor) then you can view their lists as well. If you want to add those songs you found to Spotify or apple music then you can from the Shazam App.
Learn to Sing - Perfect Pitch
If you want to learn how to sing a song or perfect your pitch, then this is the app for you. Perfect Pitch has the technology that detects and displays your singing pitch in real time. There are various training programs for you to follow so that you can improve your voice and tune. Some of the training involves listening to notes or tunes and then repeat them back in real time; you can do warm up exercises  and you can sing some of your favourite songs so when it comes to Karaoke nights with your friends, you can wow them!
 

Garage Band


Garage Band is an app that automatically comes on all iPads and is great to for both fun and professional use. We read an article recently from Rolling Stones and it said that so many artists are turning to Garage Band instead of the other music recording software out there. This is because it is simple to use and can be used anywhere (in a tour bus, on a plane, etc.). Some artists even go into the studios with something pre-recorded through Garage Band that doesn't need much tweaking. From a business perspective, you can use it to create some beats or background music for marketing projects. Or if you just want to have a play around with the app for fun then you can go between different instruments, record voice notes and distort the tune to sound like a robot or a monster, etc.
Here is our CEO, Alison, using the GarageBand App in her Augmented Reality Workshops:

The Piano Keyboard


The Piano Keyboard is a great app for music teachers and those that want to learn an instrument. Katie May, who did our beautiful Opera Review of the G-Hold loves using this app in the classroom as she uses the keys to help her with finding the right note when singing. This app also allows you to learn how to play the piano and learn different songs. You can also record your performance and send to family and friends if you wanted to. For those that want bigger or smaller keys, then you can adjust the size of the keyboard, you can adjust the volume and it has a built-in metronome for those that want to ensure they keep in time. It's also super fun to play around with and make some fun music.
 

Sing! Karaoke by Smule


This app is for those that want to have some fun! You can also be a bit more serious with this app but here at G-Hold we are all about the fun. This app is perfect with the G-Hold because you can hold the tablet up and see the words come across the screen with ease. It's a super easy Karaoke app that allows you to sing up a storm with an unlimited number of songs and genres. You can sing solo, a duet, a cappella or with a group. Feel like singing a duet with Ed Sheeran? Then you can with this app and if Ed Sheeran is not your thing there are other major artists to duet with as well. There is also the option to record yourself when you are singing and add audio and visual effects to the video.