Get a Grip Features G-Hold Tablet Holders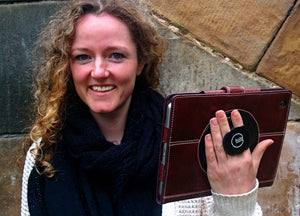 New Design magazine profiled G-Hold's inventor, Alison Grieve, and gives some exciting insight into how the design and production processes worked.
Alistair Welch speaks to inventor and entrepreneur Alison Grieve about what's involved in taking a product from idea through to manufacture
There is no doubting the popularity of tablet computers. In work, rest, and play the tablet has reached the mainstream. However, inventor and entrepreneur Alison Grieve believes that she has spotted a gap in the market. Whilst we might love watching Netflix on our iPad or reading a bestseller on our Kindle, holding these devices comfortably for any length of time can be problematic. Grieve's suspicions that there was a need for a product that improved the experience of holding a tablet was backed up by some 'Google market research'. When she entered 'awkward to hold' into the search engine both 'iPad' and 'Kindle' were amongst the top four suggestions.
This was the origin of the 'G-Hold' – a multi-purpose hand-hold that can be placed onto any type of tablet or reader to improve the user's comfort when holding the device. The G-Hold is available in a 'Megastick' version that attaches permanently to a tablet and a 'Micro Suction' version that uses nanosuction technology to allow the device to be removed and re-used again and again. Leather cases for the iPad and iPad Mini featuring an integrated G-Hold are also available.