Crowdfunding - Six Lessons Learned from a Successful Business Project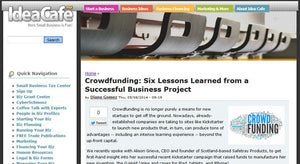 Our CEO and inventor Alison Grieve was interviewed for this great case study about crowdfunding on Ideas Cafe. Here is a brief extract, but you can read the whole story 
here
.
"Crowdfunding is no longer purely a means for new startups to get off the ground. Nowadays, already-established companies are taking to sites like Kickstarter to launch new products that, in turn, can produce tons of advantages -- including an intense learning experience -- beyond the up-front capital.
We recently spoke with Alison Grieve, CEO and founder of Scotland-based Safetray Products, to get first-hand insight into her successful recent Kickstarter campaign that raised funds to manufacture her new invention, the G-Hold (grips and cases for iPad, tablets, and iPhone).
She learned several valuable lessons from the Kickstarter venture:
Connections are Key 
Giving anyone a chance to be a part of a production process opens up the lines of communication between the producer and those interested in donating. That feedback can be essential. The key is in the connection with the backers.
"You can really lose that connection if you have a business model of selling through distribution, wholesale or even retail," Grieve tells us. "Crowdsourcing gives you invaluable insight into the wants, needs and desires of your ultimate end user. It really is an unparalleled method of funding."
Be Genuine and Receive Genuine Support 
Hearing someone's story firsthand can be the kicker. Think about it: who doesn't love to support the little guy? A crowdsourcing page can give businesses the chance to open up about their ambitions. It also can help potential backers understand businesses' perspectives and why they need the backers' support.
"I got the sense that many backers are actually motivated by the desire to help in somebody's journey toward achieving their dreams- not just in the product itself," Grieve says. "It was a hugely emotional experience, and both myself and the team felt such gratitude for the kindness extended by friends and strangers alike."