G-Hold Inventor's Search for Woman Who Saved Takeout Pizza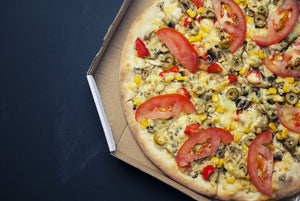 "An award-winning inventor is on the hunt for the mysterious New Yorker whose brilliant idea stops your takeout pizza from being ruined before it's delivered.
Secretive Carmela Vitale invented the pizza saver – the little white plastic tripod that sits in the middle of pizzas to stop the box from sticking to the toppings.
And though Alison Grieve – who invented the G-Hold and the Safetray – has been searching for Vitale for two years in her spare time, she has yet to even find a photograph of the secretive creator.
Grieve said: "I started researching the inventors of the products we use on a day-to-day basis for a TV series idea that I had.
"Carmela's takeout pizza saver is used literally billions of times per year. I remember the days of having to scrape half of my pizza toppings from the cardboard and refashion them in a sludgy mess back on to the half-naked base.
"It was a small, yet widespread, problem, answered by a simple solution. And yet, despite its ubiquity, its inventor is entirely unknown. Who is Carmela Vitale? Where is she now? Why did she let the patent expire after just a couple of years? I love the mystery and intrigue. And I want her to receive some of the kudos she deserves."