G-Hold in Chats with Michael O'Mara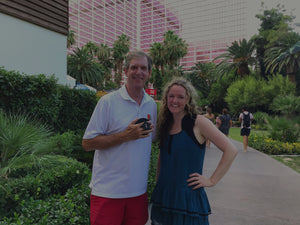 The great thing about social media is that it's easier to know when you're going to be in the same place / same time as your friends and connections. In this case, Alison first met Michael O'Mara when she was on a trip over to the US in 2016. Michael had been covering the US election (and protests) for an NBC affiliate and they got to talking when he noticed Alison holding a G-Hold.
She'd been promising to send him one ever since (sorry for the wait, Michael!). By chance, we happened to be in Vegas at the same time again this trip and so Alison was able to give him his long-awaited G-Hold! As Michael also provides media training, we got a few top tips from the man himself!
We've been very fortunate to work with incredibly supportive TV presenters over the years, and we're particularly grateful to Lee McKenzie for all her support across C4 and BBC Sports. We have no idea how she manages to always be on top form whilst putting in more air miles than any other person we know. We're very fortunate that she read a news article about us in the Sun (again, in 2016) and reached out to us on Twitter.
Again, the power of social media!